03/01/2021

NH Welcomes Christian Hill Director of Grants & Development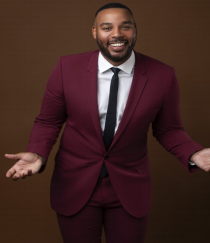 Christian Hill is a seasoned development professional and non-profit leader. He has more than 10 years' experience in fund development, public/private sector partnerships, and community engagement. In his new role as Director of Grants and Development, Christian will partner with the Executive Director to provide leadership, direction and coordination for all fundraising strategies and activities that will garner sustainable financial growth for Norwalk Housing.
This includes: grants, major gifts, corporate sponsorship, and foundation giving aimed at securing multi-year commitments that will enable Norwalk Housing Authority to fund its charitable programs, and grow annual revenues for the Norwalk Housing Foundation.
Prior to joining Norwalk Housing, Christian was a Senior Director at Changing Our World Inc., (a for-profit fundraising consulting firm). On his most recent project, he led a five-year, $90 million capital campaign for the Archdiocese of Hartford, which encompassed 120+ parishes across Hartford, Litchfield and New Haven counties. In roles prior, he had major success leading comprehensive fund development programs including-annual giving, major gifts, corporate and foundation giving, as well as direct response-at organizations including: The Archdiocese of Baltimore, National 4-H Council, and the National Center for Civil and Human Rights.
In these roles, Christian's direct financial impact exceeded $45M, combined. He serves the larger community through advancing the mission of the several community-based organizations he supports as either a volunteer, donor and/or board member. He is a member of the 100 Black Men of America, the Urban League of Greater Hartford and Phi Beta Sigma Fraternity Incorporated. Christian attended undergrad at Georgia State University and graduate school at University of Maryland, University College.