Resources
Government
Access Health CT
Census Information
City of Norwalk
Norwalk Fair Housing Officer
Norwalk Human Relations Officer
State of Connecticut
USA.Gov
U.S. Department of Housing and Urban Development
---
Educational
Connecticut State Department of Education
Norwalk Community College
Norwalk Public Schools
Plato Learning
Side by Side
Tutor.com
---
Community
Courage to Speak
Day Street Health Center
Dress for Success
Fairfield County Community Foundation
Family and Children's Agency
Great Schools
Mid-Fairfield Child Guidance
Norwalk Community Health Center
Norwalk Reads
Norwalk Senior Center
The Workplace
---
Community Resources
Norwalk Housing Authority and General Information
The Norwalk Housing Authority has put together this list of resources available to the residents of our communities to assist during this uncertain time. We hope to assist in providing resources to meet the variety of needs.
Please click on the links to get to more detailed information.
Norwalk Housing: Call 203.838.8471
Monthly RENT payment 'REMIT TO' Address:

Norwalk Housing Authority Department 51
PO BOX 150504
Hartford, CT 06115-9901
NHA Rent Adjustments: Contact your NHA occupancy specialist.
NHA Learning Centers: Free homework help for grades K-12. For more information call:
Income Support/Stimulus Payments/Unemployment Benefits/Money Management
Meals, Food Pantries, Food Stamps, Nutrition Programs
Daily Breakfast & Lunch for NPS Students: Days/Hours Open: Mon-Fri, 12 PM to 2 PM


Take-away Meals & Pantry:


Open Door Shelter,
4 Merritt Street,
203-866-1057

Hours Open:
Breakfast: 6 AM - 8 AM every day
Dinner: 3 PM - 4:30 PM every day
Pantry: Mon - Fri 9:30 - 11:30 AM

SNAP: Call End Hunger CT at 866.974.7627
Mon 9AM - 8PM, Tues 9AM - 9PM, Fri 9AM - 3:30PM, Sat 9AM - Noon, Sun 9AM - 5PM.
English & Spanish support available.


WIC: Visit website for details of setting up an intake appointment.


Person to Person: 76 South Main Street 203.939.1650
Days/Hours Open:
Mon-Fri, 9 AM - 1 PM
Eligible to get groceries every 28 days.

Norwalk Salvation Army: 14 Byington Place, 203.866.2125
Days/Hours Open:
Mon, Wed, Fri 9 AM - 12 PM (by appointment)
Norwalk Seniors: Age 60 or older and in need of home delivery or referrals, contact the Senior Center at: 203.847.3115 (English) or 203.299.1500 (Spanish)
There is an additional service for a one-time delivery for Seniors. When they call Senior Services, they will receive a bag of groceries which may include fresh fruit, veggies, breads, eggs, canned goods to be delivered on the following Monday.
Special Note: For individuals that are Disabled, especially those homebound, due to self-quarantining (including non-seniors), or those that are having a hard time making ends meet, they can also call, for the one-time delivery of groceries.
Senior services will do their best to make deliveries as close to the day of the call as possible. Contact Senior Services Coordinating Council at: 203.434.3085 or 203.434.1876
Financial Support/Assistance/Child Care
Fairfield County Community Foundation & ABCD, Inc. offer a one-time COVID-19 Disaster Relief stipend to pay an outstanding utility bill, rent, or food insecurity, not to exceed $200.Applicant can select only one item to cover.
Call office: Mon - Fri 8:30 AM - 4:30 PM. Norwalk office: 475.489.9119
CTCARES Childcare Subsidy for Frontline Workers Program
Health and Wellness
YMCA: Virtual classes led by a Y instructor
Training and Education
Financial Education
Online Learning
GCF Learning: Free online educational website focusing on technology, job training, reading and math skills.
Last Revised May 7, 2020.
---
CTCARES for Frontline Workers Program
The CTCARES for Frontline Workers Subsidy Fund, a program from the Office of Early Childhood (OEC), helps Connecticut's frontline workers pay for child care. This is a short-term program to help during the COVID-19 emergency through June. Application deadline ends June 15, 2020.
What does this program offer?
If you're a frontline worker struggling to find or pay for child care, this program will help you. The OEC has a $10 million fund to help you pay for licensed child care at a center, family child care home, or group childcare home.
And if you need care outside of the settings listed above - we can still help. We will pay the same funding to an adult (age 20 and older) who is not the child's parent to care for your child while you're working.
How much funding does the program offer?
Funding will depend on the number of children and time spent in care. OEC will pay the subsidy directly to the child care provider during the COVID -19 emergency.
21 hours or more per week:
One child: $200/per week per family until July 3, 2020.
Two children: $400/per week per family until July 3, 2020.
Three or more children: Maximum $500/per week per family until July 3, 2020.
8 to 20 hours per week:
One child: $100/per week per family until July 3, 2020.
Two children: $200/per week per family until July 3, 2020.
Three or more children: Maximum of $250/per week per family until July 3, 2020.
In all cases, parents should expect to pay a co-pay, as full-time child care costs are often higher than the subsidy. There is a family income limit of up to 85% of state median income to qualify (i.e., for a family of 4 to qualify, their income would need to be less than $99,000 a year) and not eligible if you are already in the Care 4 Kids program.
Who counts as a frontline worker?
Frontline workers are those who must work outside of their own home for at least 8 hours a week caring for people, or providing direct services and essential goods to maintain human livelihood during Governor Lamont's Stay Safe, Stay Home order. Examples of such workers may include:
Healthcare workers
First responders
Child care workers
Grocery workers
Workers at state facilities (e.g. corrections, DMHAS, DCF, DDS)
Home/group home care workers (e.g. seniors, youth, mental health or people with disabilities)
People who provide services to any of the above
The state may expand this list depending on the essential services needed during the COVID-19 emergency.
How do I apply for the CTCARES for Frontline Workers Program?
Call 2-1-1 Child Care to let them know you want to apply. You will find out if you are eligible and what child care programs are near you. To access 2-1-1 Child Care, dial 800.505.1000.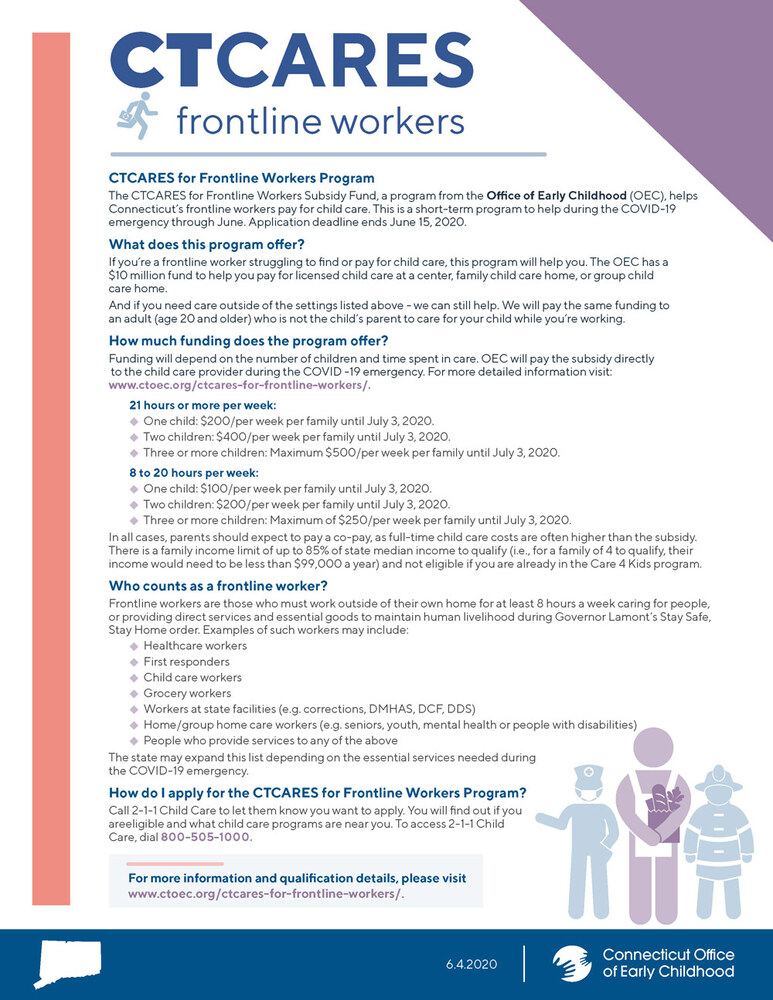 Last Revised June 04, 2020.
---
Person-To-Person
Helping Others, One Person at a Time.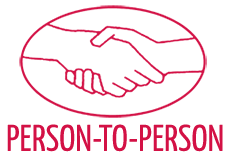 RESOURCES FOR LOW INCOME RESIDENTS AFFECTED BY COVID-19
Person-to-Person (P2P) is serving low-income residents of Darien, New Canaan, Norwalk, Stamford, Weston, Westport and Wilton who are affected by the COVID-19 outbreak. Since 1968, P2P has provided individuals and families with assistance for basic needs to overcome daily challenges and access to resources to improve their lives. P2P is offering the following assistance during this time:
Food Assistance:
Free shelf-stable groceries including fresh produce, protein and dairy are available to residents with income below 235% of Federal Poverty Guidelines or employees furloughed due to COVID-19.
Please call 203.655.0048 to make an appointment; appointments are available immediately.
Proof of residency and family size is required; NO PROOF OF INCOME required.
Three Locations: Darien (1864 Post Road); Norwalk (76 South Main Street), Stamford (mobile).
P2P on Wheels mobile pantry serves the following Stamford neighborhoods (CALL TO CONFIRM HOURS):
- Mondays 11 am - 1 pm: Yerwood Boys & Girls Club, 90 Fairfield Avenue
- Mondays 2 - 4 pm: Stamford Manor, 26 Main Street
- Tuesdays 11 am - 1 pm: Ferguson Library South End., 34 Woodland Avenue
- Tuesdays 2 - 4 pm: Shippan Place, 521 Shippan Avenue
- Wednesdays 11 am - 3 pm: DOMUS, 83 Lockwood Avenue
- Thursdays 3 pm - 7 pm: Building One Community, 75 Selleck Street
Foods include fresh produce, protein, dairy, tuna, beans, cereal, peanut butter, jelly, soups, fruits & vegetables, pasta, rice.
P2P provides each member of a family with 3 meals per day for 7 days, visit once every 28 days.
Emergency Financial Assistance
Caseworkers meet with clients to determine eligibility for emergency financial assistance for rent, security deposits, utilities and small emergency expenses. Call 203.655.0048 for an appointment.
Clothing
In order to minimize risk of COVID-19 contagion, P2P has temporarily closed the Clothing Center until further notice. We appreciate your understanding during these unprecedented times.
HOW TO HELP
To donate food, toiletries, paper goods, diapers or gift cards: Drop off in Darien or Norwalk, Monday - Friday 9 am - 1 pm, Saturdays 9 am - 12 pm. After hours by appointment: 203.621.0703
To donate to a virtual food drive: www.p2phelps.org Due to beneficial buying arrangements, P2P can purchase more than $3 worth of food with every dollar donated.
Most Needed Items: Tuna, Peanut Butter, Jelly, Cereal, Beans, Soup, Pasta, Rice, Canned Fruits, Vegetables
Volunteer: Volunteers are needed to pack bags for "grab and go" service - we practice "social distancing"!
PLEASE CHECK OUR WEBSITE FOR UPDATES AND CHANGES: www.p2phelps.org
---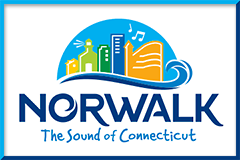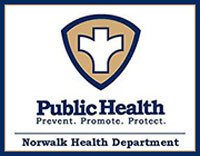 These Norwalk organizations offer pantry and/or meal services. Please call ahead to confirm details.
OPEN DOORS
Address: 4 Merritt Street, Norwalk, CT 06854
Phone: 203.866.1057
Pantry Hours: Mon - Fri, 9:30 am - 11:30 am
Takeaway Meals: Every day, 6 - 8 am and 3 - 4:30 pm
HOMES WITH HOPE, FOOD PANTRY
Address: 45 Jesup Road, Westport, CT 06880
Phone: 203.226.1661
Pantry Hours: M, T, Th, F, 1 - 4 pm
Takeaway Meals: Lunch 12 pm, dinner 5 pm (Daily)
THE SALVATION ARMY OF NORWALK, CT
Address: 14 Byington Place, Norwalk, CT 06850
Phone: 203.866.2125
Pantry Hours: M, W, F, 9 am - 12 pm
NORWALK SENIOR CENTER - Meals on Wheels Home-Delivered Meals
ST. PHILIP CHURCH
Address: 1 Father Conlon Place, Norwalk, CT 06851
Phone: 203.847.4549
Pantry Hours: F, 8:30 - 11:00 am
ST. MATTHEW CHURCH
Address: 216 Scribner Avenue, Norwalk, CT
Phone: 203.838.3788 x 118
Pantry Hours: W, 10 - 11:30 am
FILLING IN THE BLANKS (School-age kids program)
Phone: 203.750.0019
Call to see if your school is participating
PERSON TO PERSON
Address:76 South Main Street, Norwalk, CT 06854
Phone: 203.939.1650
Financial Assistance: 203.655.0048
Pantry Hours: M - F, 9 am - 1 pm and the 2nd &4th Saturdays of each month, 9 am - noon
NORWALK SENIOR SERVICES COORDINATING COUNCIL
SIKH GURDWARA
Address: 622 West Ave, Norwalk, CT 06850
Phone: 203.434.8508
Pantry Hours: Sun 12pm - 2 pm (pick up a bag of groceries)
ST. VINCENT/ST. THOMAS
Address: 203 East Avenue, Norwalk, CT 06855
Phone: 203.866.3141
Pantry Hours: Tues and Sat, 10:00 - 11:30 am.
NEW LIFE CHURCH
Address: 146 Main Street, Norwalk, CT 06851
Phone: 203.286.9820
Pantry Hours: W, 6 - 7 pm
VETERAN'S PARK (Drive-Thru or Walk-Up)
Address: 42 Seaview Ave, Norwalk, CT 06855
Hours: W, 8:30 am - 11:30 am
TRIANGLE COMMUNITY CENTER
Address: 650 West Avenue Norwalk, CT 06850
Phone: 203.853.0600
Pantry Hours: Walk in M-F, 10 am - 5 pm
Click here to view more information on food access from the City of Norwalk.
Last Updated 05/12/2021. Contact Pamela Silva with corrections or additions.
---
Connecticut Free Tax Prep

You Earned It. So Keep It. Don't Pay to File Your Taxes.
If your household earned $57,000 or less in 2020, you may be eligible for a free in-person filing with an IRS certified Volunteer Income Tax Assistance (VITA) preparer.
For more information visit: GetYourRefund.org/en, GetYourRefund.org/es
or Call 2-1-1
---
Self-Sufficiency Supportive Services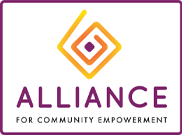 SSSS connects people with an array of services to promote self-sufficiency. Our services include but are not limited to:
Long Term Case Management
DSS Applications
Clothing and Food Referrals
211 Infoline
Emergency Rental/ Utility Assistance
Child Care Referrals
G.E.D Classes
Job Search Assistance
Community Resource Referrals
Alliance
149 Water Street, 2nd Floor, Norwalk CT
Phone: 203.838.8110
Fax: 203.838.8198
Visit: www.alliancect.org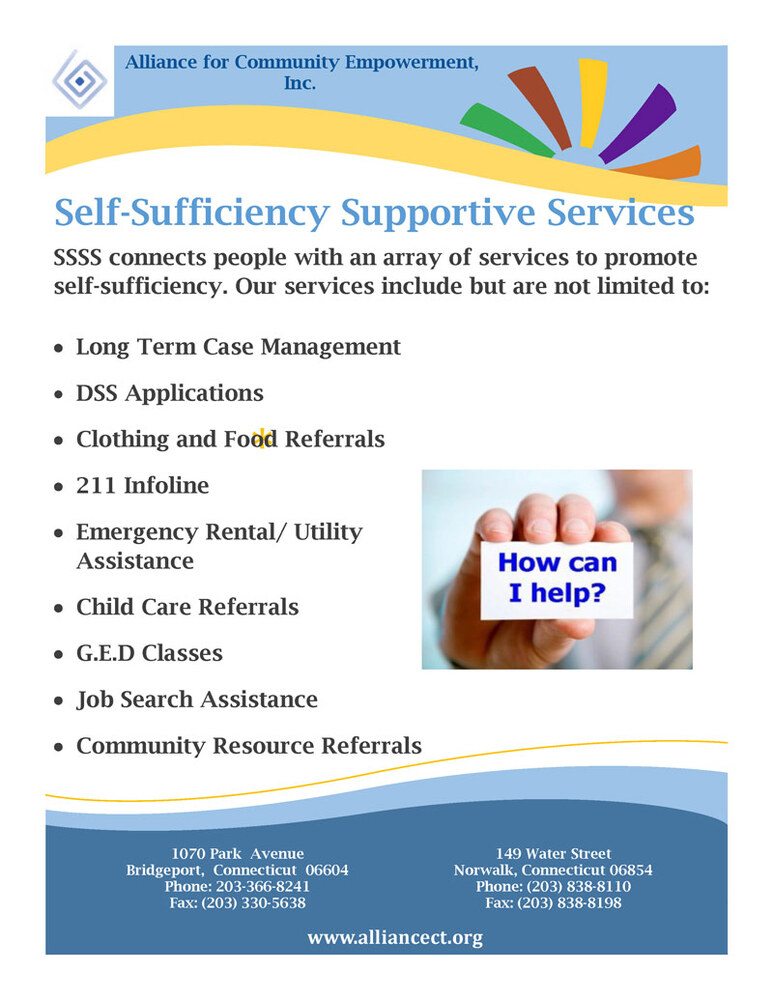 ---
ALICE® Saves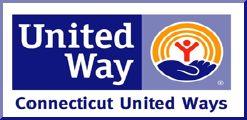 ALICE® Saves helps families and individuals in Connecticut develop healthy financial habits and offers members opportunities to earn rewards for savings and to get help solving their financial concerns.
Free Financial Guidance
Connecticut residents who need help dealing with creditors, finding resources or managing their money have access to Trust Plus, a free virtual or telephone financial coaching program.
COVID-19 Resources and Information
ALICE Saves and United Way's 2-1-1 Connecticut are here to help stay connected to coronavirus-related information. View the handy guide to information, government programs and other services to help you make it through these difficult times.
Join ALICE® Saves
Join ALICE® Saves and you'll be enrolled in SaverLife which helps you learn how to save money. Plus, you'll have access to TrustPlus - a FREE online financial coaching program which helps you get on a path to financial security.
---
Need Help Paying Your Winter Heating Bills?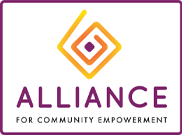 The ALLIANCE Energy program provides help to eligible households who reside in Bridgeport, Fairfield, Monroe, Stratford, Trumbull, Norwalk and Westport with assistance in paying their winter heating bills. One application covers all programs. There are several programs for which you may be eligible.
List of required documentation
Please remember to bring:
Valid ID
List all those who live in your household and social security numbers are required
Document all the income for the 4 weeks prior to coming in for everyone 18 and over
Paystubs
Self-employment income with all pages of the 10401 IRS forms
Social security income and benefits
Pension statement
Unemployment printout (www.ctdol.state.ct.us)
Workman's compensation statement or disability insurance
Rental Income
V.A award letter for Veterans' benefits V.A. pension
Divided and interest statement over $10.00
Child support alimony
All assets: bank account((s) Statements(s) of all members including debit card statement
Current rent receipt or mortgage statement
Current gas and electric bill
Visit: www.alliancect.org
Alliance
1070 Park Ave Bridgeport, CT 06610
203.366.8241
149 Water Street, 2nd Floor, Norwalk CT
203.838.8110

Monday - Friday 7:30am-5pm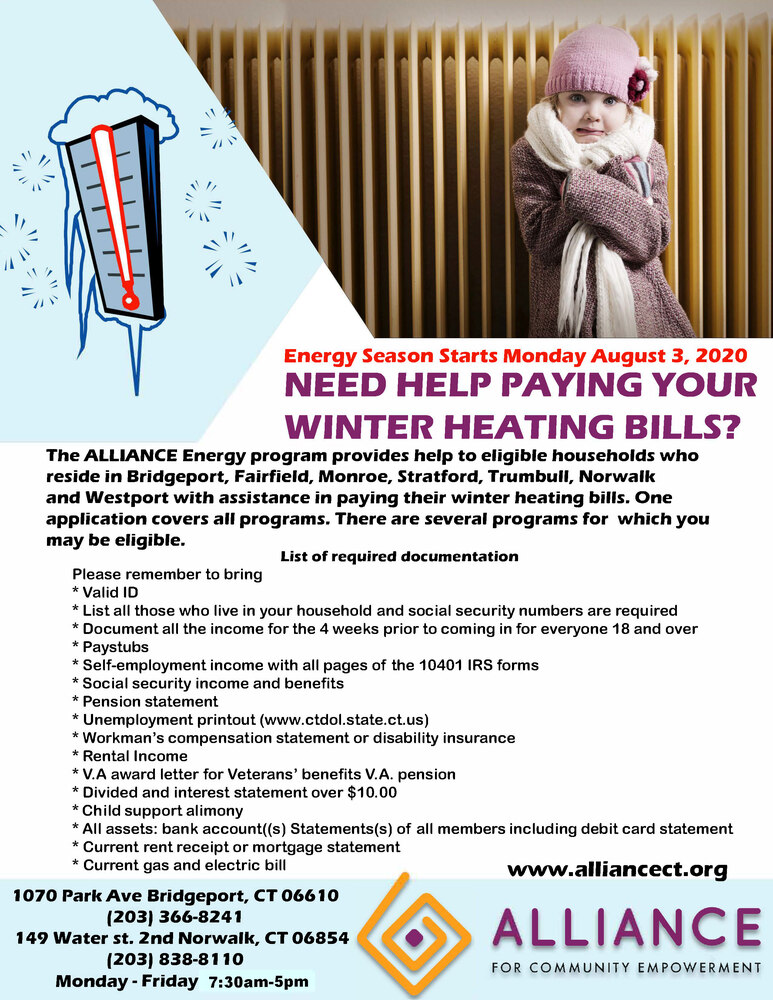 ---
Bridgeport Rescue Mission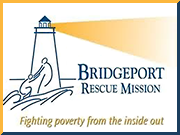 Free meals daily 4 days a week in Norwalk
Tuesday Dinners

6:00 PM
13 Day Street Parking Lot

Thursday Dinners

6:00 PM
Meadow Gardens Learning Center Parking Lot

Friday Dinners

6:00 PM
Roodner Court Learning Center Parking Lot, 261 Ely Ave

Sunday Lunches

1:00 PM
Mount Zion Church Parking Lot / 96 South Main Street
The Bridgeport Rescue Mission Mobile Kitchen Food Services provides FREE WEEKLY delicious, nutritious meals in take-home packages to anyone in need.
ALL are welcome!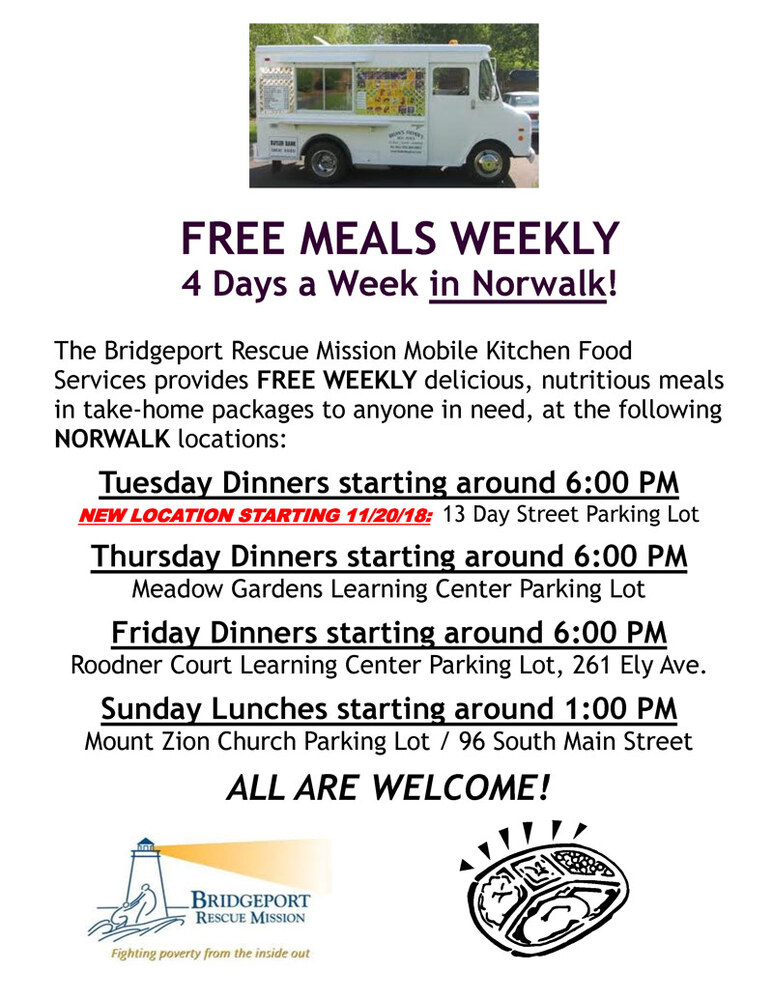 ---
City of Bridgeport Down Payment Assistance Program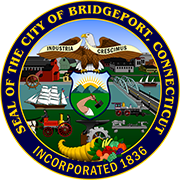 Up To $15K Available for Qualified First-Time Homebuyers
We are taking applications for this round of funding for the City of Bridgeport's Down Payment Assistance Program
Please share with your email contacts and help us get the word out. Funds are available on a "First Come First Served Basis".
Eligibility Criteria
1. Forgivable loans of up to $15,000 for down payment and closing costs
2. Buyer must have a written pre-approval from a mortgage lender
3. Buyer must be pre-approved for a fixed rate mortgage
4. Purchase property can be 1-4 units
5. Owner Occupancy Required
6. Buyer must contribute a minimum of 1% of the purchase price
7. Underwriting ratios - 35%/43%
8. Property must be located in the City of Bridgeport
9. Household must make no more than 80% of the Area Median Income, as established by HUD
10. Buyer must attend an 8 hour homebuyer class with a HUD-approved counseling agency eg. BNT
11. Property deed restricted for 5 years
12. Not a property owner in the past 5 years
13. Property value cannot exceed 95% of Bridgeport's median purchase price for single family housing
Household Size 2016 Max-Adjusted Gross Income
1- $46,000
2- $52,600
3- $59,150
4- $57,700
5- $71,000
6- $76,250
7- $81,500
8- $86,750
For more information or to apply, please call Bridgeport Neighborhood Trust at 203.290.4255 or visit our website at www.bntweb.org.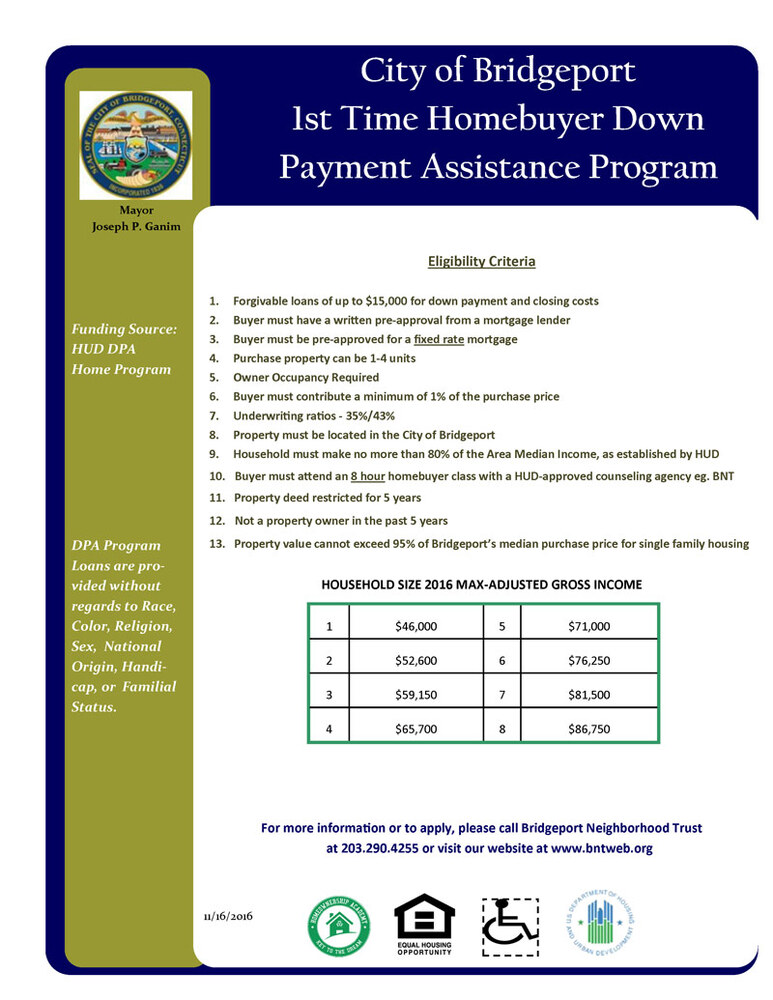 ---
Norwalk Health Department
- Hepatitis C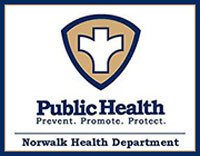 Get Tested FREE for Hepatitis C
If you were born between 1945-1965
You've injected drugs
You have tattoo or piercing
You had an organ transplant or blood transfusion before 1992
You have HIV or liver disease
Call now to get tested
Norwalk Health Department
203.854.7776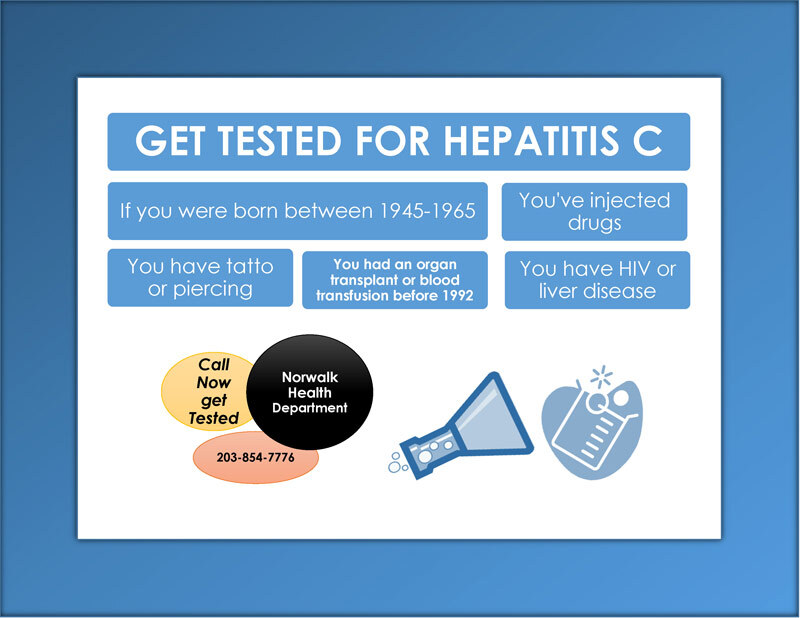 ---
10 Reasons to Apply to Job Corps

Train - Successful careers require a strong foundation.
Learn - Further your education, gain new skills to advance your career.
Live - Become part of a community that encourages growth and success.
Connect - Network with employers and community leaders.
Hands-On Career Training

in high-growth industries

Tuition-Free

to eligible men and women ages 16 through 24
Housing, meals, and basic medical care provided at

No Cost

Industry-recognized

Credentials

Community College

classes and partnerships

Workplace Experience

with employers in all industries

Community Service

projects that provide additional training opportunities
Networking and

Professional Development

opportunities

Advanced Training Programs

in industries like health care and information technology

Results:

Job Corps graduates either enter the workforce or an apprenticeship, or go on to higher education, or join the military
WHAT YOU NEED TO KNOW
Job Corps is tuition-free to eligible young men and women.
Job Corps is open to ages 16 through 24.
There are 123 centers across the nation.
Job Corps offers hands-on training in high-growth industries like health care, information technology, advanced manufacturing, and many more.
Our most successful Job Corps students are in the program for at least 18 months.
Job Corps works-Job Corps graduates either enter the workforce or an apprenticeship, go on to higher education, or join the military.
JOB CORPS INDUSTRY SECTORS
Advanced Manufacturing
Automotive and Machine Repair
Construction
Finance and Business
Health Care
Homeland Security
Hospitality
Information Technology
Renewable Resources and Energy
Transportation
Contact: Robert Velez, Jr.
Cell 203.443.7463 or Office 203.549.1502, Email: Robert Velez, Jr.
Visit: recruiting.jobcorps.gov or mifuturo.jobcorps.gov (español)
Call: 800.733.JOBS [5627]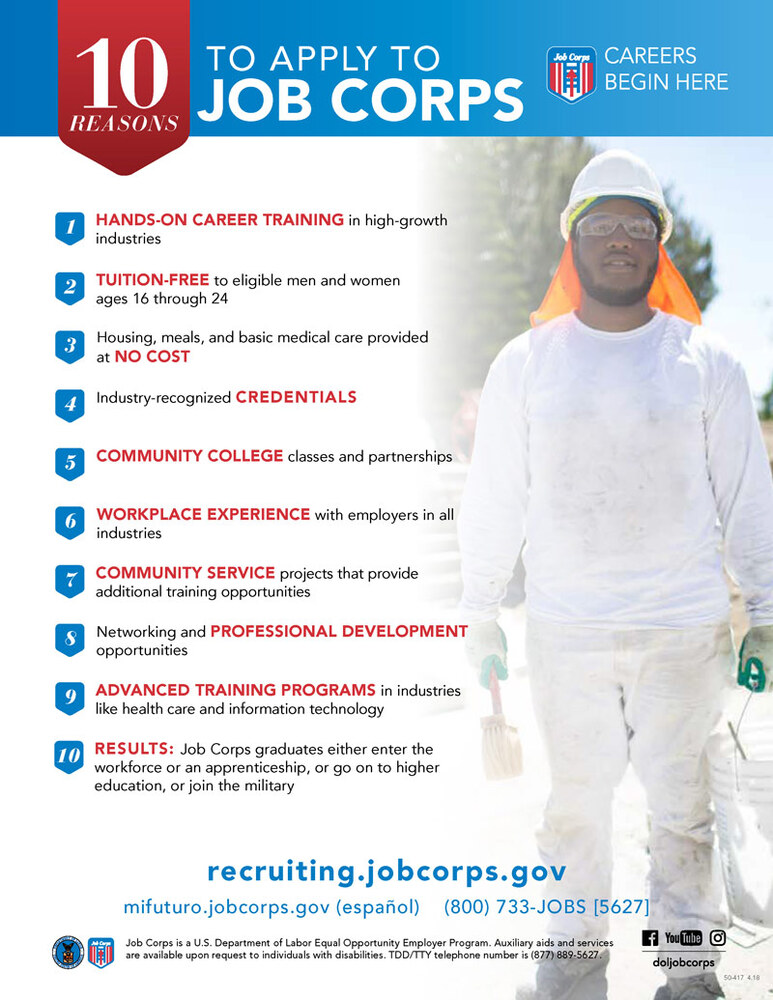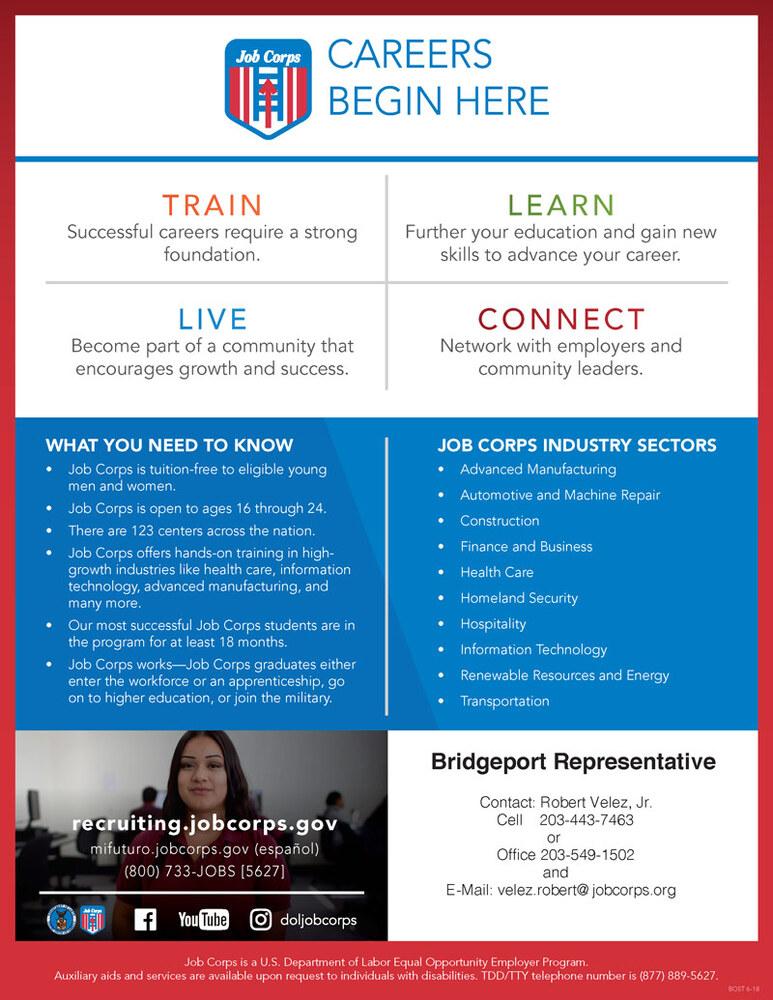 ---
Are You Interested in the Healthcare Industry?
Let Us Build Your Pathway to a Brighter Future!

Our Health Career Academy provides Tuition Assistance and other support to help you with a career in the growing healthcare field.
Examples of possible career tiers:
TIER 1 - Entry Level Certificates: 4-16 Weeks
Dental Assistant
Patient Care Technician
Certified Nursing Assistant
Home Health Aide
Medical Billing & Coding
Pharmacy Technician
TIER 2 - Mid-Level Certificates: 1-2 years
Surgical Technologist
Radiologic Technologist
Medical Assistant
Medical Records & Health Information Technology
TEIR 3 - High Level Certifications or Degrees: 1-3 years
Registered Nurse
Medical Office Management
You will have access to career readiness and personal growth classes and seminars. Upon completion, you can move into occupational skills training in a variety of healthcare related fields.
Program participants residing in southwestern Connecticut who are receiving TANF, meet income requirements, were impacted by a company layoff, or their position was eliminated may also be eligible for comprehensive support services and access to internship opportunities and job placement assistance.
Health CareeRX Academy
A Workplace Opportunity
For more information call 203.930.1637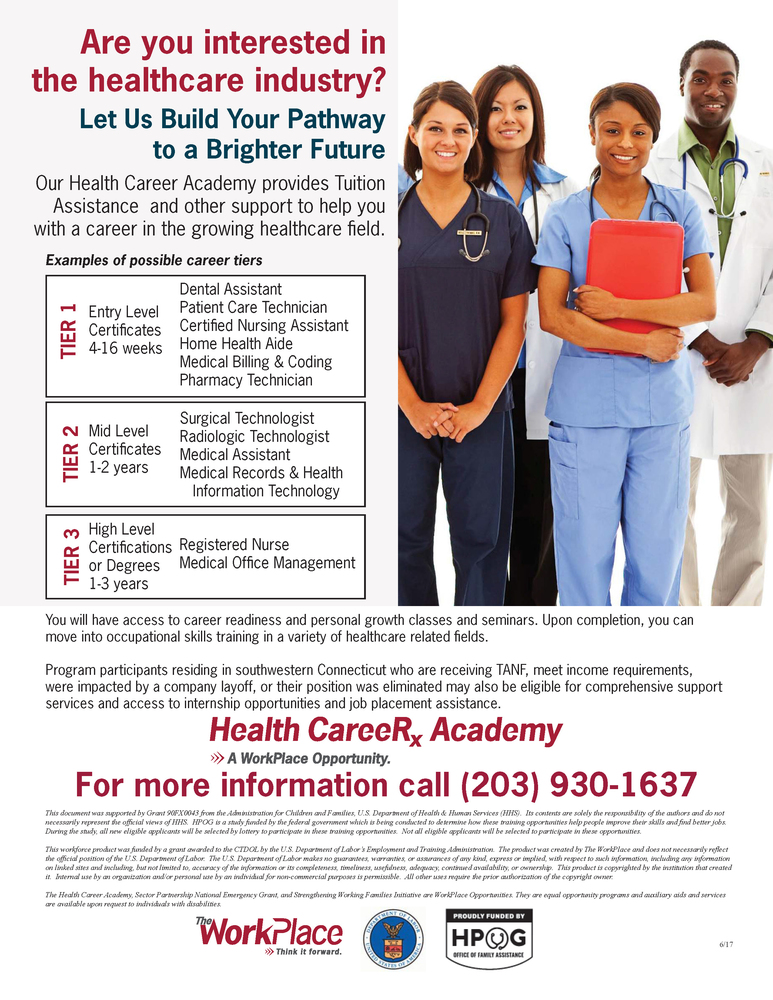 ---
Allied Health Certificate Programs

Norwalk Community College
NCC Career Connections Thrive by 25
An Allied Health certificate can be the first step in launching a career that offers a clear pathway for advancement. The Allied Health employment sector is one of the fastest growing in Connecticut. Scholarships for eligible Career Connections candidates are available for the certificates below.
Certified Nurse Aid
Program Dates: 1/31 - 5/12
Median Wage: $14.84
EKG Tech
Program Dates: 2/1 - 5/3
Median Wage: $26.71/hr
EMT
Program Dates: 1/22 - 5/26
Median Wage: $15.71/hr

Homemaker Companion
Program Dates: 2/3 - 3/4
Median Wage: $10.87
Medical Billing & Reimbursement
Program Dates: 1/17 - 5/13
Wage Average: $16.09/hr
Home Health Aide
Program Dates: 2/28 - 5/25
Median Wage: $12.98/hr
Personal Care Aide
Program Dates: 1/29 - 5/14
Median Wage: $12.67
Pharmacy Tech
Program Dates: 2/6 - 4/19
Median Wage: $15.05/hr

Phlebotomy Tech
Program Dates: 1/23 - 5/5
Median Wage: $15.72/hr
Physical Therapy Aide
Program Dates: 1/24 - 2/28
Wage Range: $10.47 - $22.93
Veterinary Assistant I, II, III
Program Dates: 1/31 - 5/10
Median Wage: $14.65/hr

CAREER CONNECTIONS
Are you ready to gain a certification that will allow you to compete in a career in the medical field?
This program includes: a full scholarship, clinical or internship, job placement, career development, coaching, and a workplace strategies class.
You may be eligible if you:
Are 18 to 25-years-old.
Have graduated from high school.
Are currently not working full time, and not attending school.
Do not have a college degree
APPLY NOW
For more on eligibility, certificate training offerings, and applications, please contact Lauren McGuire, 203.857.3307
This program includes: a full scholarship, clinical or internship, job placement, career development, coaching, and a workplace strategies class.
For more information and to register email The Division of Extended Studies. Reference the Service and Sales Certificate.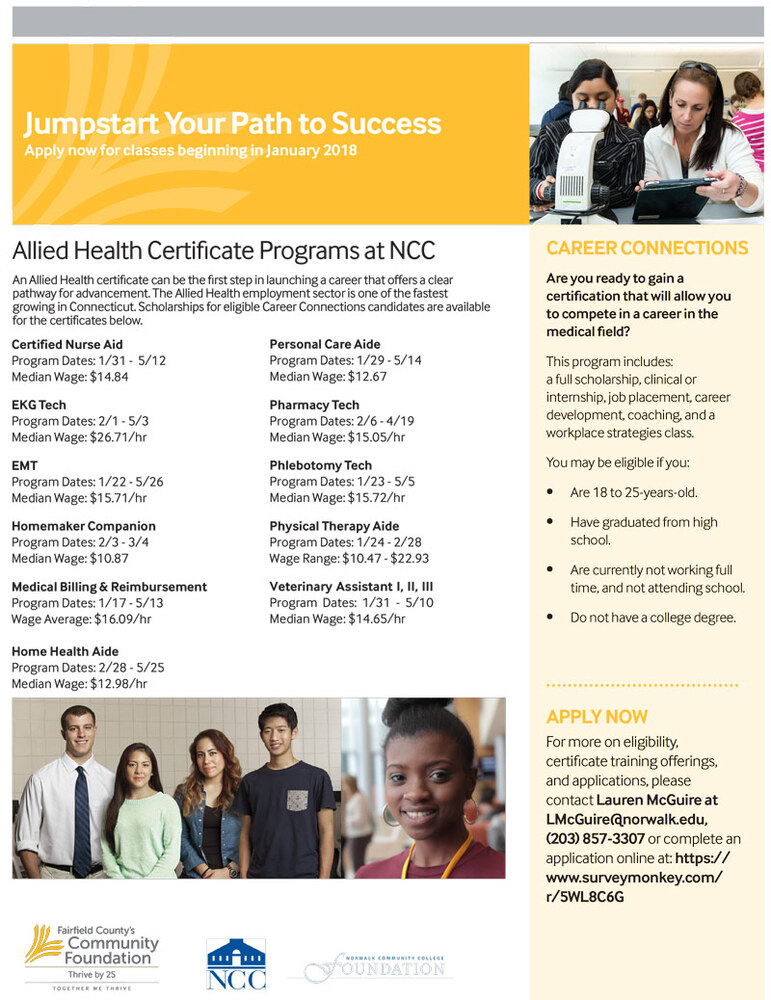 ---
Retail Customer Service and Sales Certificate

Norwalk Community College
Retail Customer Service and Sales Certificate
(8/17/17)
The Customer Service and Sales curriculum is designed to help entry-level sales and service associates learn skills related to frontline work in retail (or any industry that values customer service and sales skills). All students enrolled also receive access to career services to ensure they are job ready, as well as have access to wrap around support services to enhance student retention and completion.
Upon successful completion of course requirements, students receive an NCC Retail Customer Service and Sales Certificate from Norwalk Community College. In addition, students sit for the National Professional Certification in Customer Service and Sales Exam offered by the National Retail Federation, (NRF).
Registration for this class is $25 (scholarship value of $199) which will be refundable upon successful completion of the certification exam. Class will meet 6-9pm Tuesday's beginning 10/24-12/19 and additionally on Thursday 12/14 and 12/21.
Course Learning Overview
Retail Industry Overview
Defining Retail
Understanding the Customer
Recognizing the Economics of Retail
Customer Service
Understanding Customer Service
Learning About Products and Services
Assessing and Meeting Customer Needs
Educating the Customer
Selling and Service
Preparing for Selling
Gaining Customer Commitment and Close the Sale Develop and Implement a Sales Follow-Up Plan
Store Operations
Understanding the Basics of Inventory Control
Exploring the Process of Merchandising
Contributing to the Store's Loss Prevention Strategy
Following Procedures/Workplace Safety
Getting the Job
Understanding the Importance of Common Employability Skills
Crafting Polished Resumes
Making an Impression
Shining in an Interview
Networking
Exploring a Retail Career Path
This Certification is funded by GGP and the Norwalk Community College Foundation.
For more information and to register please contact The Division of Extended Studies at NCC, 203.857.7080. Reference the Service and Sales Certificate.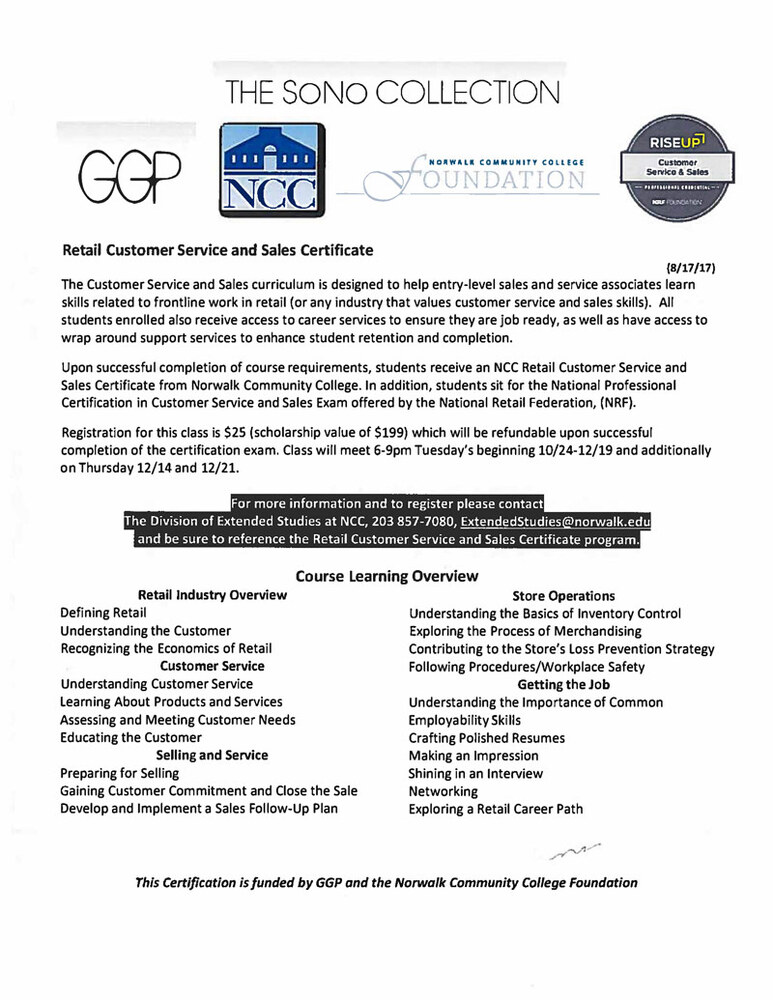 ---