CNI History
It was clear to Housing Authority leadership in 2009 that a plan was needed to address the outdated conditions at Washington Village. After retaining the firm EJP Consulting Group, a Choice Neighborhoods Planning Grant was awarded by HUD. The initial PY 2010 award was summarized by HUD as follows:
Norwalk, Connecticut
Choice Neighborhoods Grantee:
Housing Authority of the City of Norwalk
Target Public Housing Project: Washington Village
Target Neighborhood: South Norwalk
Choice Neighborhoods Award Amount: $250,000
Lead Applicant Contact Information:
Mr. Curtis O. Law, Executive Director;
PH: 203.838.8471 x128;
FX: 203.838.6535; claw@norwalkha.org
Lead Applicant Organization Type:
Public housing authority
Key Partners:
EJP Consulting Group, LLC (Planning Coordinator)
Norwalk Redevelopment Agency
Family and Children's Agency
---
Project Summary:
The Housing Authority of the City of Norwalk has partnered with EJP Consulting Group, LLC (Planning Coordinator) to create a Transformation Plan targeting South Norwalk, Connecticut and the Washington Village Housing Development. Washington Village was constructed in 1941 and is the oldest public housing site in the state. Its obsolete buildings, units, and site design have deterred public investment in South Norwalk. Currently, there are several planning activities taking place in the neighborhood, including the development of a Transit-Oriented Development Master Plan for the South Norwalk Rail Station, the development of a two-mile pedestrian and bicycle path in the downtown corridor, and investment in housing, office and retail buildings. The Choice Neighborhoods Transformation Plan will knit these efforts into a cohesive and impactful plan and bring together residents, social service providers, city agencies and community and faith-based organizations. Additional planning activities will include a comprehensive neighborhood needs assessment focusing on housing needs and resident services and the creation of task forces to focus on improving neighborhood housing and educational activities.
From HUD website Planning Grants 2010
---
Timeline:
The initial planning involved the establishment of focus based Task Forces and Committees. In 2011 an outreach effort to community stakeholders resulted in the creation of the Housing and Neighborhood Task Force, a People Task Force and an Education Sub-Committee. Public meeting were held by these working groups from mid-2011 through 2012. The membership on these groups and the meeting notes are included as appendices to this section. A detailed survey of the residents of Washington Village was also performed in 2011 by the Family and Children's Agency. The results were invaluable in determining the needs and concerns of the resident population.
In October 2012 an event occurred that would greatly influence the planning process. Superstorm Sandy raked the northeastern seaboard bringing a 6-foot tidal surge to Water and Day Streets and flooding the first floor apartments throughout Washington Village. This was much more severe than Storm Irene which occurred a year earlier and underscored the need to focus on flood mitigation activities and sustainability planning. The severity of the storm not only brought focus to the flooding problem but led to the creation of the Storm Sandy Relief Act and funding through the Community development Block Grant - Disaster Recovery program.
A process was also undertaken to further expand the development team. After a detailed and comprehensive Request for Qualifications process, Trinity Financial, LLC and Housing Opportunities Unlimited were retained as housing development partner and case management/relocation contractor respectively.
In 2012 negotiations were initiated with the City of Norwalk for the purchase option on two vacant parcels on Day Street. The properties are adjacent to the existing Washington Village site and had been vacant for over 30 years. A public hearing was held in May 2013 and an Option Agreement was subsequently executed linking the development of the two sites to the redevelopment of Washington Village and the pledged improvements to the surrounding South Norwalk community. The addition of these two properties enabled the development to expand in size to 273 apartments with 100% of the public housing units being replace and 50% of the new units designated as affordable. It also allowed the development to be constructed in three phases with the newly created units on Day Street to be available for initial relocation opportunities.
After months of planning and research the Washington Village/South Norwalk Transformation Plan was developed and in June, 2013 submitted to HUD for approval. This was followed by the submission of the Grant Application exhibits in September 2013.
In March 2014 the Housing Authority was informed by HUD that it was a finalist for the $30 million Choice Neighborhoods Initiative Implementation Grant. From 44 applications there were 6 finalists and ultimately 4 grants were awarded; Philadelphia, Pittsburg, Columbus OH and Norwalk CT. Final approval was received on September 25, 2014 following a site visit was conducted by HUD on September 22 & 23.
An executive oversight board was needed to manage the project going forward so the Implementation Coordinating Committee (ICC) was created in September 2014.
View the Choice Neighborhoods Fact Sheet
---
Planning & Implementation Grants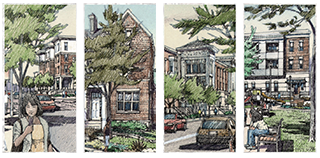 Choice Neighborhoods Planning Grants support the development of comprehensive neighborhood revitalization plans which focused on directing resources to address three core goals: Housing, People and Neighborhoods. To achieve these core goals, communities must develop and implement a comprehensive neighborhood revitalization strategy, or Transformation Plan. The Transformation Plan will become the guiding document for the revitalization of the public and/or assisted housing units while simultaneously directing the transformation of the surrounding neighborhood and positive outcomes for families.
Choice Neighborhoods Implementation Grants support those communities that have undergone a comprehensive local planning process and are ready to implement their "Transformation Plan" to redevelop the neighborhood.